It's the most wonderful time of the year! Pantone has announced their 'Color of the Year' for 2021 and we are here for it. Our graphic designer, Della must have googled 'Pantone Color of the Year 2021' 500 times before they finally revealed it.



Every year since 2000, Pantone has chosen a color that they believe to be a prediction of where color is headed. These colors are a thread they hope people will be inspired to weave throughout all design: home decor, fashion, packaging, and web.
A stark contrast from last year's 'Classic Blue,' this year, their choices were Pantone 17-5104 Ultimate Gray and Pantone 13-0647 Illuminating. Just like every other year, this yellow grey combination has been the source of lots of talk and speculation.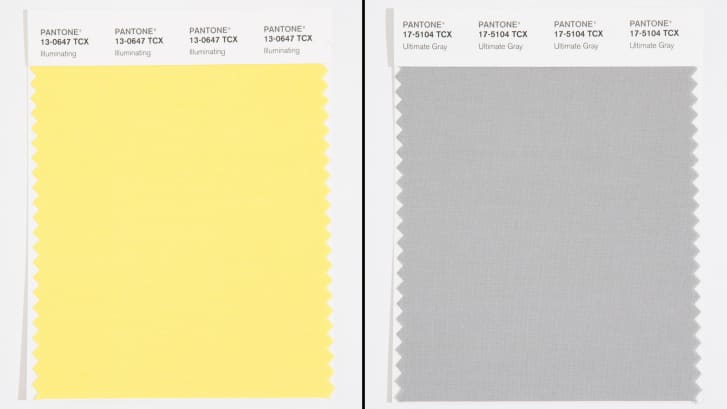 Here's what Pantone has to say about each color: 
Illuminating: "is a bright and cheerful yellow sparkling with vivacity, a warming yellow shade imbued with solar power."
Ultimate Gray: "is emblematic of solid and dependable elements which are everlasting and provide a firm foundation."
Together: "Practical and rock solid but at the same time warming and optimistic, this is a color combination that gives us resilience and hope. We need to feel encouraged and uplifted, this is essential to the human spirit/"
After the year we had in 2020, we like the sentiments behind these color choices. While they may not be everyone's favorite, how could Pantone please everyone with their decision? 
While we love all design, we'll focus on home decor for today's post. Here's what Pantone highlighted for home decor: 
"Ultimate Gray and Illuminating are a great combination to set the mood in any room in the home adding a dose of sunshine and positivity. Juxtaposing Illuminating with Ultimate Gray in table linens, sheeting and home accessories including pillows and tabletop infuses vitality and liveliness.

Painting a front door in bright yellow Illuminating conveys a warm and welcoming message when supported by solid and dependable Ultimate Gray in the exterior finishes.
The ideal combination for any office whether in the home or in a commercial space with Ultimate Gray providing the firm foundation for illuminating, a vibrant yellow that heightens awareness and enhances intuition, lighting the way to intellectual curiosity, originality, and resourcefulness of an open mind."
Once we found out about this color combination, we sifted through our gallery to get inspired. Here are some gorgeous gray and yellow combos we found that remind us of Pantone's predictions:
@beccainteriors
uses many hues of gray to create this gorgeous dining room featuring the
Tommy Grande center table
.
@kendallksimmons designed a gorgeous kitchen for @nashvilletash using pops of yellow.
One of our very own pendants adopted the Pantone Colors for this year before they were cool. 
The most yellow Stray Dog room of the year award goes to Johnson Vann Interiors.
All grey everything is looking good in this @habitatgreenwich scene with a Stray Dog Aunt Susan Stool and Tristan Side Table.
What Stray Dog Colors are closest to the Pantone Colors of 2021?
Want to sift through previous Pantone Colors of the Year? Here's the master list:
See what the New York Times had to say about the pick.