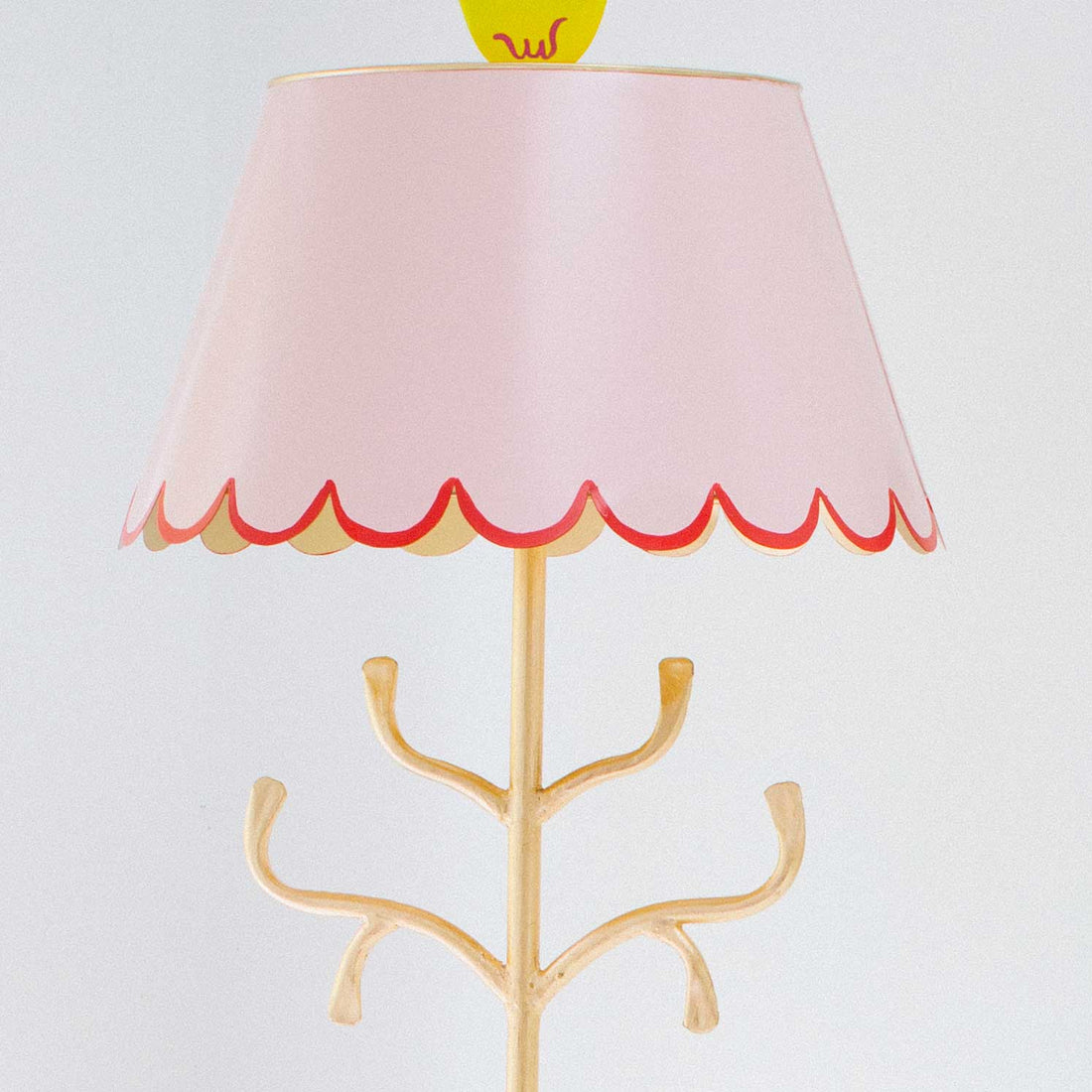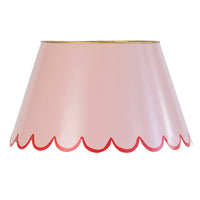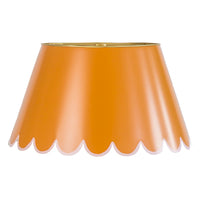 Our signature scalloped tole shade. She offers a flirty and girly flair to a space, and can dress up any old lamp. Has a metal body with scalloped, hand-painted edges. Gold trim with gold interior.
Details
Handmade by artisans in Mexico
Tole
9hx10x16

Eraser Pink has Red Trim 
Black has Eraser Pink trim 
White has Douglas Fir trim 
Pumpkin Blush has Eraser Pink Trim 
Each product has been photographed and digitally recolored. The product you receive may appear slightly different than our photograph on the website.

For more details about our colors, visit our Color Page.

If you'd like to order a swatch card to see our colors in person, get one for free here.
WARNING: This product can expose you to chemicals including: lead which is known to the State of California to cause cancer and birth defects or other reproductive harm. For more information, go to www.P65Warnings.ca.gov
The warning listed on our website is in accordance with a law implemented by the state of California called Proposition-65. Under this regulation, California law requires businesses to provide warnings for products containing chemicals that the state of California has identified as carcinogens or reproductive toxins. Recent amendments to this law require any retailers selling to California residents to list this warning on their website.
There are currently almost 1,000 substances on the Proposition-65 list, ranging from cigarette smoke and asbestos to aspirin and wood dust. One of the materials listed is lead, and because most light fixtures contain brass in the sockets or in the frames of the shades, we are required to put this warning label on our light fixtures. Brass is a metal alloy consisting of copper, zinc and small amounts of lead, which is what triggers the "lead" warning under California Proposition-65 since lead has been shown to cause cancer when it is ingested.
We hope that this explains things a little more clearly. If you have any additional questions, we would suggest visiting the website mentioned above for more information and the complete list of substances that require warnings under Proposition-65.
I'm in LOVE
The shade was even more lovely than picture. I was especially please with the way the special order trim color was actually what I hoped it would be. I look forward to ordering additional unique pieces.
Super Cute Shade
I got this shade for my guest room and couldn't be happier. The red and gold trim with scallops were just the right thing for the space. The finial just added to the whimsy. LOVE!
Cute shade!!!
Had one" petal" that was bent, but don't want to send back bc everything in the world takes forever! I'll turn it towards the back 😁. Love stray dog!
Abby! Don't be silly. If there is an issue, simply send a picture to support@straydogdesigns.com and we'll get everything worked out. And yes, things have taken a long time, but it is getting better! (Whew!).
Thanks for the love. We love love!
handcrafted & high quality
Worth the Wait
By collaborating with local artists in San Miguel de Allende, we blend modern style with timeworn techniques that have been passed down for generations. The result is handcrafted, high quality, and one of a kind - just like you and your home!
the stray dog way