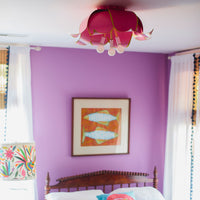 A Perfect Statement Ceiling Lamp!
We adore our Lula Flush Mount! At first, I bought another ceiling lamp to save money from Ballard Design, and you know what? I felt like I compromised my feelings. In the end, I should have bought Lula in the first place. It just shows you that you should get what you like - otherwise, you will have to like what you get. If you find something you love that is out of your price range, it is better to wait and save your money. You won't be sorry. Everything we've bought from Stray Dog Designs is worth every penny.
Retno. That is the nicest review anyone could have written. Thank you. You sum up the argument/debate we all have when selecting between small batch/artesanal and large production factory made product. But in the end, it is all about what you want and love. We appreciate you selectively bringing us into your home.
Great light
SD has such high quality products and each is very unique. We are happy to add this one to our collection.
handcrafted & high quality
Worth the Wait
By collaborating with local artists in San Miguel de Allende, we blend modern style with timeworn techniques that have been passed down for generations. The result is handcrafted, high quality, and one of a kind - just like you and your home!
the stray dog way